Message Scriptures:
"Therefore, my beloved, as you have always obeyed, not as in my presence only, but now much more in my absence, work out your own salvation with fear and trembling; for it is God who works in you both to will and to do for His good pleasure. Do all things without complaining and disputing, 

that you may become blameless and harmless, children of God without fault in the midst of a crooked and perverse generation, among whom you shine as lights in the world, 

holding fast the word of life, so that I may rejoice in the day of Christ that I have not run in vain or labored in vain. Yes, and if I am being poured out as a drink offering on the sacrifice and service of your faith, I am glad and rejoice with you all. 

For the same reason you also be glad and rejoice with me. " – 

Philippians 2:12-18

"The 

Lord

 is my strength and my shield; my heart trusted in him, and I am helped: therefore my heart greatly rejoiceth; and with my song will I praise him." – 

Psalms 28:7
Introduction:
Good Morning & Happy Sunday!
I am so excited that God has led me to this devotional titled A Heart Full of Thanksgiving to countdown the weeks to Thanksgiving week. I am thankful for what God's done with this blog of mine. He still continues to draw people in through the 7 Hebrew Words For Praise series, and for those of you who don't know that series is now a published book.  You can actually purchase a copy of the book through Amazon right here: 7 Hebrew Words For Praise by Pastor B, and if you feel like you'd just like to sow into the ministry you can do that by going to this link right here: https://www.paypal.me/christministnwa.
So, The way the schedule will (or should work) is that Part 1 will be posted today, Part 2 will be posted on November 11, and Part 3 on November 18th…since Thanksgiving is on November 22nd, and then on Sunday November 25 God's also given me a series to do a Countdown to Christmas series which will wrap up on Sunday December 23, 2018.  And that will likely be the last of the devotional series messages of the year.
I would like to ask y'all one last thing. I would really appreciate if y'all would join me this year in praying that God would give me clear direction for what He wants us to talk about in 2019, and that God would provide a major financial blessing for my family both to help my family and to keep Christlike Ministries NWA going, Amen!?!
Okay, with all that stuff out of the way…I think it's finally time to get started with this message, Amen!  I hope y'all will join me and enjoy this series.  So, with that…let's pray and get into the first of three parts to A Heart Full of Thanksgiving.
Let's Pray:
Lord Jesus. I pray that you would make my fingers as that of a pen of a ready writer, writing only of the oracles of You. I ask for the supernatural ability of the Holy Ghost to help me to write with boldness, clarity, power, and purpose. I ask that You would give those who read this ears to hear and hearts that will receive and respond to what You are about to speak through this message. It is my hope that You receive the glory and honor and praise. In Jesus name. Amen & Amen.
A Heart Full of Thanksgiving ~ Part 1
I'm not sure why I'm having a hard time getting into this message, but this is the third time I've started…so I'm hoping that the third time is the charm. I feel like I'm getting ready to write one of those messages that's not going to be very popular…nor is it going to be festive.
As I read the devotional that this message is based upon there's a theme that really sticks out, and I suppose that's why this message has gone the direction it's gone every time I sit down to write it.
Here's the thing. All month long we're going to start to see people write about things that they're thankful for or about, and they might even include one of the thanksgiving verses with what they're writing. You know the verses I'm talking about. I'll list a few of them, and on the other side of this list I'm going to start preaching and meddling a little bit. I'm warning y'all now about the meddling because I've written this message three different times…and it keeps coming back to this point so this is what the Lord wants to say…and that's about all there is to it.  So…the list of Thanksgiving verses, and then we'll get going…
You see, here's the problem. It's just people posting words on social media.
The subtitle of this series is talking about making a heart full of Thanksgiving a lifestyle…not just a special holiday occasion or event.  God WANTS us to be a thankful, grateful people, but we only find ourselves being thankful when November hits and we start thinking about the holiday season.
Our world is caught up in entitlement and thus we are ALWAYS discontent. We are just like Adam and Eve in the Garden. We think we deserve to be gods. Thus, we are on an endless quest to captain our own ship, and the reason we are never satisfied, and view all those that stand in the way of our satisfaction as enemies, is because we will not allow ourselves to be happy until we have it all. As a result, we are bound in discontent. Wallowing in our own pride. We are chasing shadows
I keep coming to this statement in the devotional, and as I think about the part of one of our message scriptures that talks about the crooked and perverse (or twisted) generation that results from being a bunch of murmuring and complaining people and I can't help but realize that we see nothing but complaining, crooked, twisted, perverse people NOW.
It's all over social media. It's all over the news. It's in the temper tantrum that's been two years long since Donald Trump was elected President of the United States of America. I can't read too much on Facebook these days without getting annoyed by all of the griping and complaining that's going on in the world today.
Everyone feels entitled to have everything be their way, and if it's not their way then they gripe and complain and whine because it's not exactly how they want it. If there's one thing that I will instantly scold my daughter for is the sense that she's entitled to always have things her way, and when she doesn't get things her way she whines and complains.
There's one thing that annoys me today and that's this sense of entitlement that's in today's culture and attitudes. They're discontented with their lives because they're not thankful or grateful for what they have, and because other people have it better than them…they think they're entitled to have some of what other people have been blessed with.
IT DOESN'T WORK THAT WAY IN THE KINGDOM OF GOD.
In the Kingdom you aren't entitled to anything, but death for disobeying and rejecting the Laws of the King. Therefore, the King knowing that we wouldn't be able to keep all of His laws gave us the ONLY thing that would alleviate the punishment of the breaking of that Law by sending Jesus to the Cross to die in our place.
Listen to me very carefully.  The Cross alone is enough for us to praise and worship and thank God every day until Jesus returns or He calls us home.  If God never blessed us with anything else. If God never did anything other than send Jesus to the Cross to take our place to restore our right-standing and relationship and fellowship with Him…THAT is more than enough for us to be grateful and thankful for the rest of our lives.
BUT GOD DIDN'T STOP THERE.
He continues to bless us with things like homes and jobs and cars and food to eat and clean water and healthy bodies and clothes to keep our bodies from being naked and cold and things like heat in the winter and air conditioning in the summer.  Who do you think provides all that stuff…your job!?!
Who do you think blessed you with the skills and ability to do your job? Who do you think gave you favor with your employer over the 50 other applicants that were applying for that same position?  How exactly is it do you think God provides for your family!?!  It is through that job that we take for granted and complain about and wish we didn't have to go to.  I'm in the same boat, friends. I'm not preaching anything to you that I'm not preaching to myself.
The point is we're not entitled to any of the things God has blessed us with, but He blesses us because it pleases HIM to bless His children. He does things for us because it makes Him happy to do and provide things for us.
The problem is that we've become like the Israelites in the wilderness. We are somewhere between the promise God gave us and the fulfillment of finding ourselves in that promised land…but the problem is we don't know how to navigate the wilderness.
The reason the Israelites spent so much time in the wilderness is because they spent so much time complaining and wishing they could go back to what God was delivering them out of. They had no idea of how amazing the land was that God had prepared and waiting for them…and so they wandered and wandered and wandered…and complained and complained and complained.
So, I don't know about you, but I want to learn how to have a lifestyle of thanksgiving. I want to learn how to be grateful and thankful in everything because THAT is the will of God in Christ Jesus concerning me.  The Bible tells us that it's God's will that we are thankful and grateful people.
Again…if all God did was send Jesus to the Cross that alone is enough for us to enter His courts with thanksgiving and praise for the rest of our lives on earth, but He didn't stop there. We all know that God didn't stop there, but the reality is we aren't really living a lifestyle of thanksgiving and praise, are we?
I'll help you answer that. We're not because if we were then I wouldn't be writing about how we're not thankful enough for what God has already done and what God is currently doing and we're also not thankful for what He has yet to do.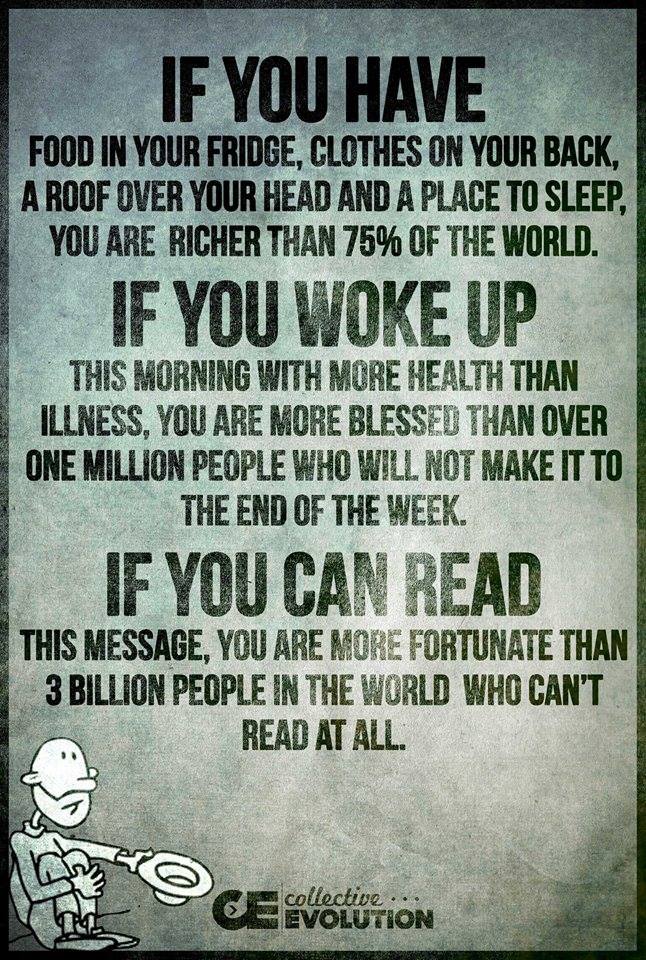 We have all kinds of things to be thankful for especially for those of us who live in America. Even though it seems like things are unstable the reality is we still live in the greatest nation on earth, and that's an easy reason to be thankful and grateful to God that we don't live some place where Christians have their heads cut off for just being Christians.
I have just learned that I have a whole lot more to be thankful and grateful for what I have and where I am because no matter how bad I think I might have it someone else has it worse.
Think about it. I could spend time complaining about how some times this house tends to feel a little small and there are all kinds of things that are starting to go wrong or need to be repairs and the yard doesn't always look very nice because of the moles and bamboo…but I've learned to be thankful for the house I live in because I remember what it was like to not have a home to live in at all.
That's right, friends. I was homeless at one time. I had to sleep in homeless shelter or two and eat at a soup kitchen a few times in my life.  I know there are homeless people here that would love to have a home like mine to complain about…and so I thank God for the roof over my family's heads that has heat in the winter and air conditioning in the summer.
I am thankful to God that I have clothes on my back, shoes on my feet, food in my stomach, and a body that is still in relatively great health. There are people who have clothes that are dirty and have holes in them, there are people that don't have shoes on their feet or food in their stomachs or clean water to shower in or bath in or drink. There are people who are constantly struggling with their health or have lost their eye sight or ability to hear or lost limbs or fingers or people that have lost family members.
The point is…we can either be complainers or we can be worshipers and I've determined that I'm going to be a worshiper. I'm going to be thankful and grateful and when I worship God that gratitude is part of my adoration for Him because I am thankful, truly thankful that I know that my God really and truly is a Good, Good Father.
Friends…if we will adopt the old attitude with gratitude and be a people who don't wait till November to be thankful and grateful for the blessings God has given us, the things God has protected us from, and the many ways God has provided for us…that will enable us to encounter and experience His presence more when we are worshiping Him in our cars or showers or at church.
Why?  Because God inhabits the praises of His people. That's what the Bible means about worshiping Him in spirit AND in truth. That's what the Bible means when it says that if we will draw near to Him that He will draw near to us.
Anyone here want to be near someone who's always griping and complaining!?! Anyone here want to draw near to someone that whines and murmurs all the time?
So…if we are annoyed and turned off by those kinds of people than why would we blame God for being annoyed and turned off from those of us that are constantly griping and complaining about our lives when God has given us so much to be thankful for just because of the Cross.
I keep coming back to this…if God never did another thing for us but the Cross then the Cross is enough for us to be the most grateful, thankful people on the planet because we should understand that just with the Cross God gave us the greatest blessing and gift He could ever give us because without the Cross there is NO HOPE for any of us.
So, as I prepare to close this message let me add one final point…
Thanksgiving is a lifestyle! If you're struggling with sin in any fashion today, it's a worship (thanksgiving) problem. You are worshiping yourself, someone, or something over and above God, and the only way to defeat sin is to transfer your worship. This is what thankfulness does. It takes your focus off your deceptive need, and places your gaze upon the King.
Thanksgiving is a lifestyle…or it should say that Thanksgiving ought to be a lifestyle. I don't know about you, but I want to live my life in a way that's pleasing to God, and one of the ways I can do that is by being grateful and thankful for all that He's done…all that He's doing…and all He has yet to do in…with…and through my life.
How about you?
Let's Pray:
Father I want to lift up my hands and voice to worship You in thanksgiving and praise, for all the goodness and loving-kindness that You so freely pour out on me.. with every passing day.
Thank You for the grace that You supply moment by moment and day by day and I pray that You would develop in me a true attitude of gratefulness and a heart that acknowledges the long-suffering way that You are working in so many area of my life.
Lord I am so very grateful to You and pray that You would keep my heart filled with appreciation for all You have done for me.. and develop in me a godly attitude of gratefulness – so that I may never cease to praise You for Your gracious goodness to me and to all people.
May I learn to recognize that all the gifts and graces I have is a result of Your loving-kindness towards me. and may I never cease to lift up my hands and voice to You in grateful praise for all You are doing in my life. May the Lord Jesus be glorified I pray,
Amen
Final Word From Pastor B:
I am sorry for the delay in getting this written and posted. It's been a busy couple of days, and I am thankful to finally have the first message of this series written, proofread, and published.
I hope that the next couple of messages will be a little more festive than this one is, but I believe we got some good stuff out of this one anyways. The main thing being that we need to have the old "attitude of gratitude", and be thankful always. I have to remember this myself because I can find myself being ungrateful and complaining too. So, please don't think I'm preaching at y'all because I'm preaching this message to myself as well.
This finally concludes the first message in our A Heart Full of Thanksgiving series. I hope you'll comeback to enjoy the next two parts of this series. Until then, make sure to take a moment to check out some of other messages here at https://christlikeministriesnwa.com/, and also the secondary blog at https://pastorbryankizer.wordpress.com/.
Thank y'all for being patient. Thank you also for your prayers, friendship, and support. I look forward to the next message in this series…and counting down the weeks until Thanksgiving with y'all.
Blessings & Grace ~ Pastor B