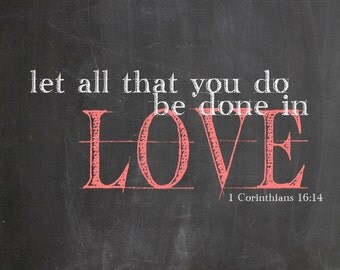 Let All Be Done In Love:
Happy Valentine's Day!
A lot of people think that this is a greeting card company holiday, and many make this about cards and flowers and boxes of candy…but in the Christlike Ministries NWA Daily Devotional for Saturday February 14, 2015 this message is going to be much different from most of the messages you are going to get when it comes to Valentine's Day.  So, let's look at our Scripture of the Day, and then get on to talk about what the Lord has laid on my heart.
"Let all that you do be done in love." 1 Corinthians 16:14 (NASB)
By now you know that this is one of the core things that I've talked about in many messages, and that's because as we all know by now if we're going to become more like God then we're going to have to learn to make the motive for everything we do become love.
When love is the motive for everything we do that is how we are able to do all that we do for the glory of God.  When love is our motive then we do things just to bless someone else regardless of whether we are blessed in return or not.  If we do all that we do out of love then everything we do is done out of the right heart, the right motive, and for the right reasons.
I know that I still need a lot of work in this area, but I really am in a place where I want love to be the motive behind everything I do.  How about you?
Let's Pray:
Father, we confess to You that at times we are selfish. Other times our intentions are good but the follow through and faithfulness are lacking. Use Your Spirit to empower and enable us to be what we hope to become to Your glory. May Your love be seen in our actions of genuine concern today. We ask this in Jesus name. Amen.
In Closing:
On this day when we are trying to find that perfect card, the best looking bouquet of flowers, or whatever it is we're doing to try to make this one of the best Valentine's Day's ever…let's remember that is the motive we should have every day.  When we do all that we do in love it's always done for the right reasons, with the right motives, and it doesn't just bless those we are trying to bless…but it also blesses us…AND it blesses the heart of God.
Remember that everything God does in us, through us, and for us is done out of love.
Have a blessed day!
Blessings & Grace;
Pastor B