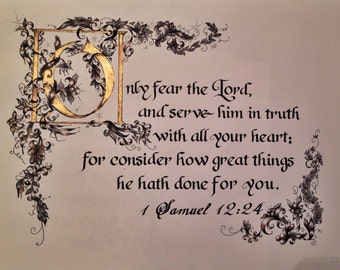 Above All
Good Afternoon Everyone,
It's a cooler, but sunny day here in Northwest Arkansas.  Word has it that we may finally have a "significant" winter weather event coming our way, and it's certainly gotten colder…but no snow yet.  Still, it's a good day to sit inside, and get us caught up on our messages.  The Scripture of the Day is a good one, and will give us a good message for the Christlike Ministries NWA Daily Devotional for Thursday, February 12, 2015.
Only fear the Lord and serve Him in truth with all your heart; for consider what great things He has done for you. 1 Samuel 12:24 (NASB)
It's the day before my twelfth annual 29th birthday, and in a few short weeks it will also be Christlike Ministries NWA's third year.  As I look back I find myself doing just what is said here considering everything the Lord has done for me, with me, and through me.
I don't even have to go back that far. I can go as far back as five years ago, and tell you that what God has done absolutely has me in awe and amazement…it shouldn't…but I can't help but to be in awe of what God has done.  Let me share a little bit of it with you as there are a lot of anniversary's happening this month.  For example, it's been nearly five years since I faced what I often call my "fork in the road" moment, and since then all I can say is God has done things in my life that I never thought could be done.
I never thought I would be able to find anywhere other than my home town to be and feel like home. In fact, I thought that I'd come down here, get myself on my feet, and move back up there when I was ready.  Today I am proud to call Centerton, Arkansas home not just for Christlike Ministries NWA, but my family as well.  I also never imagined that my parents and I would have a good relationship, but God has restored my relationship with my parents.
I never thought that I would find anyone that I'd want to spend the rest of my life with again. After all, part of the reason for leaving Kenosha, Wisconsin behind was that I was going through a divorce, and the last thing I wanted to do was find someone else and get married again.  Today, I've been married nearly four years to the love of my life, and marrying my wife became one of the best decisions I've ever made.
I never thought that I would be able to be a good father, and so I also never thought that I would want to have children.  I thought that at best I'd be good at taking decent care of a pet, but being a father was the last thing I thought I wanted to do or be any good at.  Today, as you all well know, I have a beautiful 18 month old little girl who has taught me that not only am I a better man then I thought I was, but I'm a much better parent than I thought I'd ever be.
I never, ever thought that I would be able to do anything good for the Kingdom of God.  I never thought I had anything to offer, and I certainly never believed that I had what it took to be a pastor or have a ministry.  Today, I am nearly three years in as the pastor and founder of Christlike Ministries NWA that has an outreach of 180 nations around the world.
After having taken a moment to consider all that God has done in me, with me, and through me I can tell you that all that does is solidify in my heart and mind that not only is there a God, but that He loves and cares for us just like the Bible says He does.  This God will take and transform your life just like He did mine, and I know this because the Bible says that He's no respecter of person…in other words…He will do for anyone what He's done in me and more.
The point of this message is simple.  If you are on the fence and worried about serving God…embrace the call of ministry friends.  God is faithful and able to do exceedingly abundantly above all you could ask or think.  Talk to Him about your worries…that's what He's there for…and then watch as He proves Himself faithful to you just like He did me.
Let's Pray:
Lord God, thank You for blessing us in so many ways. Please use our lives to be a blessing to others and a glory to You. In Jesus' name I pray. Amen.
In Closing:
God is awesome and mighty. He can do anything He chooses to do. So isn't it amazing of all the things He could do, He chooses to do one thing especially well: God blesses us! God blesses us with material blessing, He blesses us with spiritual blessings, He blesses us with big things, He blesses us with small things, He blesses us with hope, He blesses us beyond pain, He blesses us now, He blesses us in the future, He blesses us…
God is good at blessing us, friends.  I know it because I've tasted and seen that He is good, and He has shown Himself to be faithful to me time and time again.
He'll do the same to and for you too.
Have a blessed night!
Blessings & Grace;
Pastor B