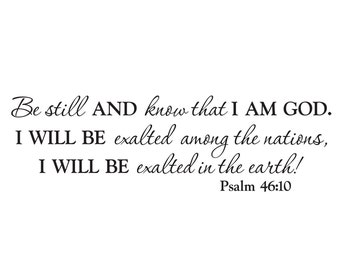 "Be Still"
Happy Friday Everyone!
The weekend is finally here again!  I hope that you didn't have too rough a work week, and if you did I hope you get some time to rest and relax and enjoy time with your family.  So, let's get to the Christlike Ministries NWA Daily Devotional for Friday February 6, 2015, and most of us know the scripture we're going to be talking about today.  Still it's always good to read it, and let the Lord speak to us from there.
"Be still, and know that I am God: I will be exalted among the heathen, I will be exalted in the earth." Psalm 46:10 (KJV)
You have to know that one of my personal all time favorite songs is going to be accompanying today's devotional. I have had this song on all of my playlists for as long as I can remember, and it always ministers to me.  It's also my second all time favorite Steven Curtis Chapman song (thanks to Elisabeth my favorite Steven Curtis Chapman song is now "Cinderella"), but number to is his song based on the verse:  "Be Still", and so here it is to enjoy while you're reading the rest of this message.
It's one of the hardest things to do. Being still is one of the hardest things to do, but it's also one of the best places to be.  When God wants us to be still and know that He is God…it's because He wants us not only to know that He is God…but that He is in complete control.
Being still requires us to rely upon and trust God completely because often in the midst of the stillness is when it seems like God isn't doing anything.  It's in the still times where the real test of our faith and trust in God lies.  Remember I always talk about two principles that never change.
One principle is sowing and reaping.  We are always going to reap what we sow, and always going to reap based upon the seeds that we sow.  We are never going to reap a harvest different from the seeds we sow.  Jesus said it this way. A good tree cannot produce bad fruit, and a bad tree cannot produce good fruit.
The other principle is seed, time, and harvest.  It is based off the sowing and reaping principle, and the is a natural order to this principle that always stays in order.  There is never going to be a time when you plant a seed, and you reap a harvest the next day.  There is always a season to plant, a season to water, feed, fertilize, and grow the seeds, and then there is a season of harvest.  The entire season takes roughly six to nine months.  Farmers usually plant their crops as soon as the ground thaws, and they spend the rest of the year until late August at the earliest before they begin to harvest their crops.
Here's the thing.  It often happens that God asks us to be still and trust Him either in the midst of the season of time or near the end of that season.  The end of that season that comes right before we reap the harvest that God promises.  In those moments when things are still and it seems like God is quiet too…those are the moments that He asks us to trust Him the most.
Let this message simply be a reminder and encouragement that if you are in the midst of the still and quiet place while it may be a difficult place to be in…it's actually the best place to be in.
Let's Pray:
Lord, help us to be strong and to trust You in the moments when You ask us to wait and to be still. Help us to always know that You are in control, and that even in the still times You are there and have our best interests at heart. In Jesus name. Amen
In Closing:
The hardest thing to do is be still especially when we need God to move according to our sense of urgency.  It's hard to be patient, and trust that God's timing is always right and perfect.
One thing I do know is that God never fails, and that when He tells me to be still that means He has a purpose.  He hasn't ever let me down, and He won't ever let you down either.
Have a blessed day.
Blessings & Grace;
Pastor B